CASE STUDY: Breezeblocker
Handle Bar Attachment
An entrepreneur with a keen interest in cycling came to us with a new component design, for a handle bar insert to attach a hand shield to the handle bars.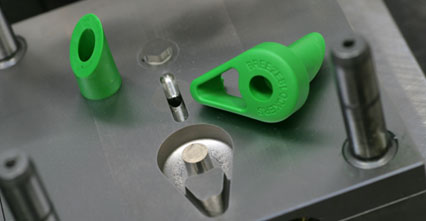 He already manufactured a foot shield that performed a similar function, produced using vac forming, but he wanted the ability to mass produce his new product at a more competitive cost. We aided the design process and the tool was manufactured in P20 steel as a 1+1 configuration (2 components made at one time).
We worked closely with the customer to develop an amortised component price to aide the move into more permanent tooling for manufacture. The product is now supplied to a distributor for supply to the general public.